Where is your headquarters? How can I reach you? 
We collect and sort books at 812 State Street/Route 206 in Princeton, almost across the street from Bottle King. Call us at 609-921-7479.
Where and when is the next sale?
The next sale will be March 20-24, 2024 at Stuart Country Day School, 1200 Stuart Road, Princeton, NJ. More details, including the hours, will be available by January 2024.
How much are the books?
Most hardbacks are $3 with books of a greater value marked accordingly. Books in the rare book section, "Collectors Corner," are priced at around 25% of their online retail value at the time they were donated to us. Bargains are found in every category!
Are tickets required?
Yes, but only on the first day of the sale when the entrance fee is $30. All other days are free. Find details and purchase tickets on the Annual Sale page.
 What forms of payment are accepted?
We accept cash, major credit cards, and checks with local photo ID.
Is parking available?
Yes, Stuart Country Day School has free parking. Look for signs as you enter.
May I bring a cart onto the sale floor?
No, we are sorry but due to fire regulations, wheeled dollies, baby carriages, wagons, and shopping carts are not permitted. Only personal mobility devices such as walkers and wheelchairs are allowed in the sales areas.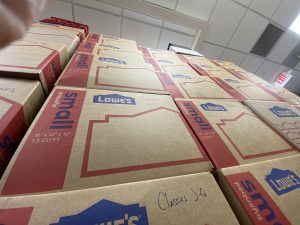 Books in storage
Are carts available for loading cars?
Yes. We have a limited number of dollies and carts to lend buyers on a first-come, first-served basis. Just leave your driver's license with a cashier as a deposit.
Are food and drinks available?
No. We are sorry that there is nowhere to buy refreshments at the sale, although there are water fountains. Please note that drinking and eating are not permitted in our sales rooms, including coffee.
Are there restrooms?
Yes.
Questions? contact us: bmandwbooks @ gmail.com