We accept donations (thank you!) on Wednesdays and Saturdays from 10:00 am – noon, and are closed on holidays noted below. Bringing more than 10 boxes of books? Please call us first at 609-921-7479.
Find us on the ground floor at our NEW PRINCETON LOCATION, 812 State Road / Route 206, a brown building located almost opposite to the intersection with Herrontown Road.
Please check our donation guidelines, below. We cannot accept books that will not sell, so please look through your donation before loading your car. We look forward to seeing you!
GUIDELINES – Please read: Items we cannot accept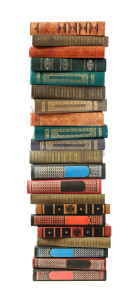 VHS tapes, cassette tapes, or CDs (except audio books). We do accept movie DVDs in good condition
Catalogs, including auction house publications
Books that are stained, coated with dust, or smell musty
Books with writing or heavily underlined pages
Paperback books with ripped covers or browned pages
World language books (except French, Italian, and Spanish)
Encyclopedias (except the Britannica 11th edition)
Self-help books
Textbooks
Business, science, and technical books that are 5-50 years old and therefore out of date. Some older books are acceptable. Please inquire.
Magazines and journals
Reader's Digest Condensed Books
Time Life sets including cookbooks
Harlequin and Silhouette romances
Manuals, almanacs, restaurant, hotel, or travel guides more than two years old
The Life Nature Library, the Life Science Library, and the Life World Library
Books that haven't sold at other sales. If they couldn't sell them, we can't either
HOLIDAY CLOSURES
Our donation site will be closed for:
New Year's Eve and Day
Annually, the month of March as we prepare for the sale
Memorial Day Weekend
July 4th
Labor Day Weekend
Thanksgiving Week
Christmas Week