We accept books in good condition at our warehouse year-round behind 32 Vandeventer Avenue, Princeton on Wednesdays and Saturdays from 10 am – noon.
We can only accept books we will be able to sell. Please see below for a list of books we do not take. We will provide a donation receipt when you drop off your books. Determining the actual value is up to you.
Due to space restrictions, we normally accept no more than 12 boxes at a time from a single household. Please call ahead (609-921-7479) if you wish to donate more than 12 boxes at once, if you have a special collection to donate, or if you have a question. We realize that some of our donors may not be physically able to bring their books to the warehouse. If you have no one to help you, you reside in Princeton, and you wish to donate books, please call us or email bmandwbooks@gmail.com.
Books we accept must be in good condition and saleable. Please check the guidelines below. Disposing of books we cannot sell is costly and we limit expenses to maximize college scholarship money we earn through the sale.
TAX DEDUCTIONS
The Bryn Mawr-Wellesley Book Sale is a private 501(c) 3 not-for-profit organization, run by volunteers from all walks of life. About one-third are community members not affiliated with either college.Your donation is tax-deductible.
Book Donation Site
HOURS
Open 10 am – noon on Wednesdays & Saturdays
Drop off books at the brown shingled barn behind 32 Vandeventer Street, Princeton, NJ 08540. (Washington Road becomes Vandeventer Street after it crosses Nassau Street.)
Please read: Books we cannot accept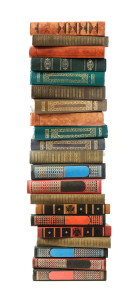 Encyclopedias (except the Britannica 11th edition)
Self-help books
Law textbooks, medical textbooks, scholarly monographs
Business, science, and technical books 10-50 years old. We will accept some older editions. Please inquire if you have a question.
Magazines and journals (except art magazines)
Reader's Digest Condensed Books
Time Life sets including cookbooks
Harlequin and Silhouette romances
Textbooks in any field
Outdated (2+ yrs old) manuals, almanacs, restaurant & hotel guides
The Life Nature Library, the Life Science Library, and the Life World Library
Books that are stained, coated with dust, or mildewed
Books with heavily underlined pages
Paperback books with ripped covers or brown pages
Books that haven't sold at other sales. If they couldn't sell them, we can't either
VHS tapes: however, we are happy to receive commercial CDs and DVDs